Forging cultural identity from the 'margins' : an investigation into the Iteso traditional music and performances

Welcome to this: www.beatsofhopeafrica.org/itesoarchive (Akogo productions) multimodal research by Daniel Okiror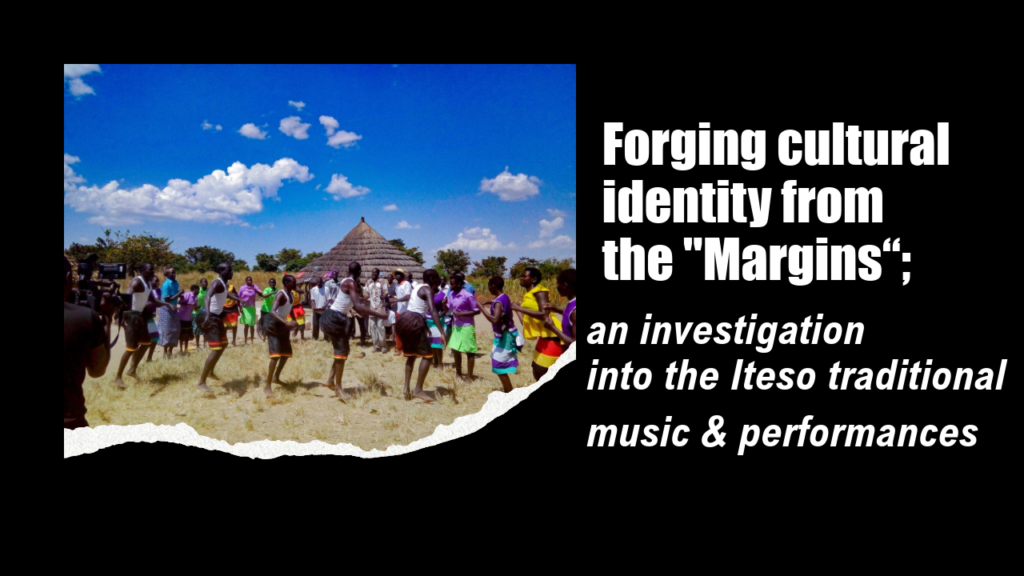 ITESO PHILOSOPHY
At the heart of the Iteso think tank is the creeping grass (Star grass) philosophy "Emuria Koliai-Let the seed grow" which espouses their aspiration to grow, conquer, and enlarge their influence and values just as the star grass firmly hooks its tendrils to the ground while it decisively takes territory. When they make these chants, they are motivating each other to stick to their identity and roots while they advance and multiply.
Yet, this aspiration is being threatened by urbanization and internationalization as the younger Iteso generations leave their villages in search of better 'modern' lives, leaving their elders who are custodians of their Oral Knowledge behind, a disconnect ensues when these young generations are forced to integrate in their new environments while the elders are dying with their knowledge. 
Infact, if nothing is done, the Iteso cultural heritage including the Ateso language will disappear within the next 50 years!
The multimodal approach in this research demonstrates how to ensure continuity of Iteso knowledge,
and effectively bridging the disconnect between Oral sources and the  travelling generations through archival research.
The knowledge inscribed in Oral traditions is now made available to everyone interested in this topic globally thanks to digital media.
Music being a portrait of society proves to be the best route of understanding an oral based society like Iteso where music precedes every life event. With myself being an auto-ethnologist in a topic I am practically involved , the findings are as realistic as possible.
Reflexivity and positionality have I made my best friends in limiting any excesses.
I hope that my own story and effort will inspire a renewal of Iteso knowledge, bringing back younger generations back to their roots
 A concreate understanding of who the Iteso are is well elaborated in my Video story.
The topic of Oral literature is broad, there is a lot in the store from the creative, academic, musical and philanthropic sides of me.   Refer to:
www.beatsofhopeafrica.org/iteso-archive
AN OKIROR REFLECTION
This archival research also became a study of myself, what really inspires my passion for Africa! I have always been fascinated by the beauty in African culture and I believe that there is a lot of potential in Africa. However, I have observed a trend of negative publicity Africa is given in main stream media , a total misconception and mishandling of the African reality.
The vanishing Iteso reality
I became curious of the vanishing and under researched Iteso Oral knowledge inscribed in traditional music can contribute to a better insight of Africa in the context of cultural diversity and inclusive development. My inspiration and constant questions come alive in my own music and work with street children. Make sure to sample my studio work , live gigs as well as the raw archive in this page-
Video story of  my research findings: The text version, my reflective methodology is available on request.
Experience Daniel Okiror on stage with his Afriteso Sound
Iteso cultural identity archive in context
Featured Iteso music instruments